On a cutting board, halve the lemons and coat the cut sides with a thin layer of sugar.


Place the lemons on the grill cut side down and cook them over medium-high heat for 6-8 minutes, until caramelized.


Remove lemons from grill and cool for 5-10 minutes.


Juice lemons into a half gallon (2 liter) pitcher.


Once all the lemons are juiced, add the white sugar, lemon rings, water, and ice (see note). Stir until the sugar is dissolved.


NOTE: Do not add the ice if preparing ahead of time. Add the ice immediately before serving.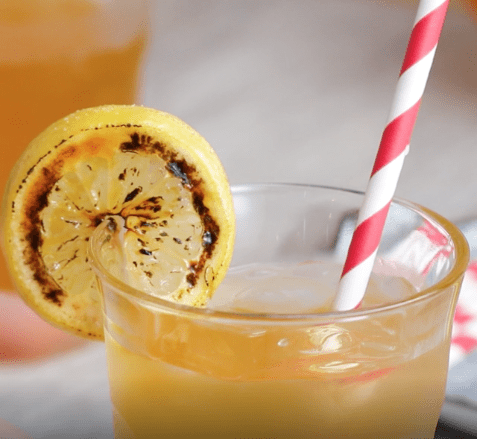 5 medium lemons
1 lemon, sliced into rings
1 cup white sugar, plus additional for coating
4 cups water
4 cups ice
Make filling: Mix together cream cheese, cheddar, mozzarella, and jalapeños. Season with salt and pepper, then fold in cooked bacon. 


Form ground beef into 8 large, thin rounds (about ¼"). Spoon about ¼ cup of filling mixture onto one patty, then place a second patty on top. Pinch edges to seal burger and re-shape into a disc if necessary. Repeat with remaining patties and filling mixture. 


Preheat grill to medium-high. Season burgers on both sides with chili powder, salt, and pepper. Place on grill and cook until cooked through to your liking, about 6 minutes per side for medium.


Sandwich with burger buns and serve immediately.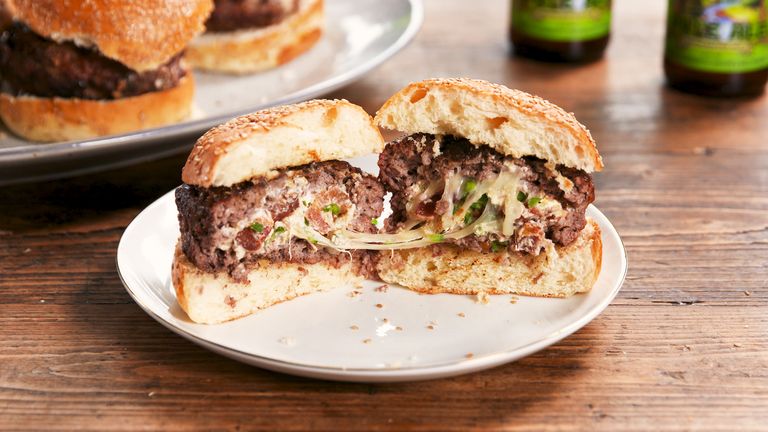 4 oz.

cream cheese, softened

1/2 c. 

shredded mozzarella

Kosher salt (to taste)
Freshly ground black pepper (to taste)

6 

slices bacon, cooked and chopped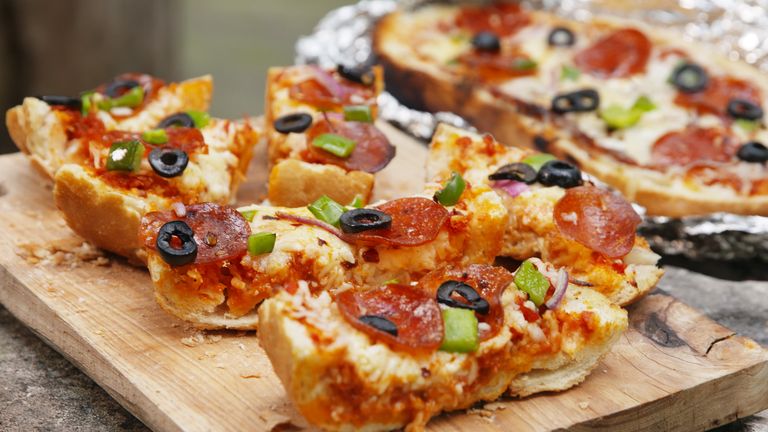 1 

15-oz. jar pizza sauce
1/2

red onion, cut into thin half moons

1

Green Bell Pepper, chopped

pinch of crushed red pepper flakes
Scoop out the middles from both bread halves to create shallow boats.


Spread pizza sauce onto each half then top with mozzarella, pepperoni, black olives, red onion, green bell pepper, and red pepper flakes.


Wrap bread loosely with aluminum foil and place over campfire (or on a hot grill) and cook until the cheese is melty and the crust is toasted, 10 to 15 minutes.


Let cool for about 10 minutes until slicing.
Grilled Pineapple Sundaes
Heat grill to high. Grill pineapple until charred, 1 minute per side.


Top each pineapple slice with vanilla ice cream and drizzle with dulce de leche or caramel. Top with shredded coconut and serve immediately.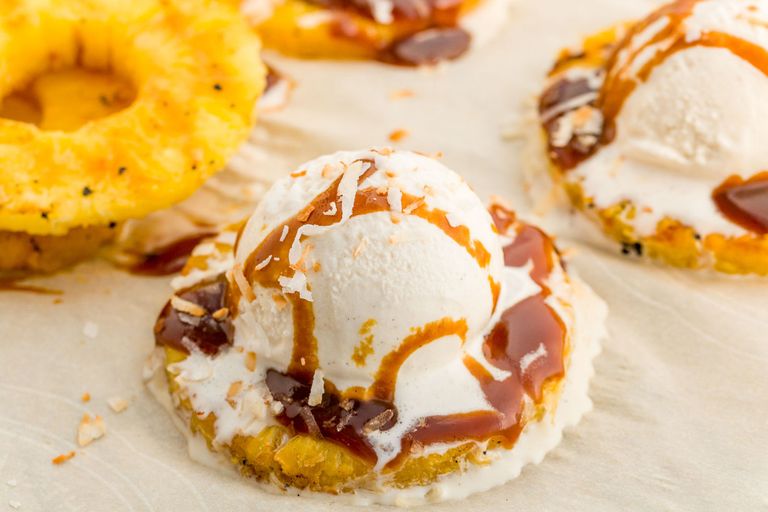 4

pineapple slices

4

scoops vanilla ice cream
Dulce de leche, for drizzling
2 tbsp. sweetened shredded coconut, toasted