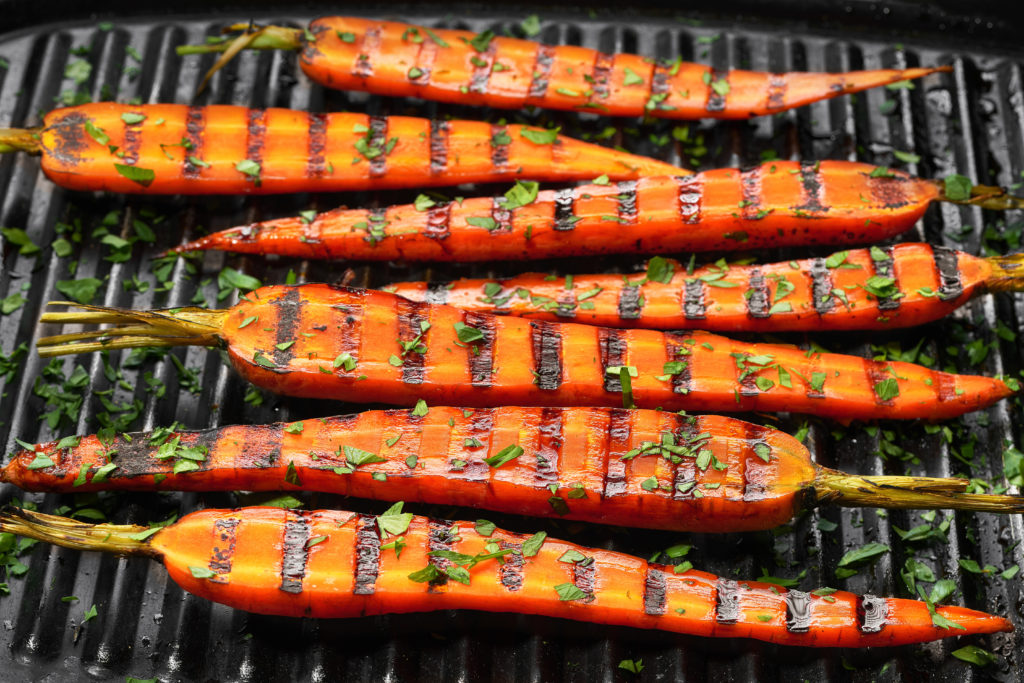 Seasonal Grilling | Seasonal Ingredients
Grilled Carrots with Honey Glaze
2 carrots
2 teaspoons olive oil – for brushing
Glaze
1 tablespoon honey
2 teaspoons brown sugar
1 teaspoon olive oil
Preheat grill to medium (surface temp of about 350°-450°.)
Prep the carrots. Scrub well or peel. Cut off the root and skinny tip.  If thicker than ¾ inch, cut in half lengthwise.
Mix 1 tablespoon honey, two teaspoons brown sugar and 1 teaspoon olive oil.
Heat in microwave for 15 seconds to get hot and stir to combine the sugar.
Give the carrots a good brush of olive oil and don't forget the cut ends. Don't brush with glaze yet.
You can use a grill pan or grill directly on the grates but be sure either is well oiled. Flip the carrots every 5 minutes or so. About 10 minutes into grilling, brush with the honey solution, flip and brush again.
Grill until internal temp over 190° in the thickest part and tender, about 5-10 minutes more.