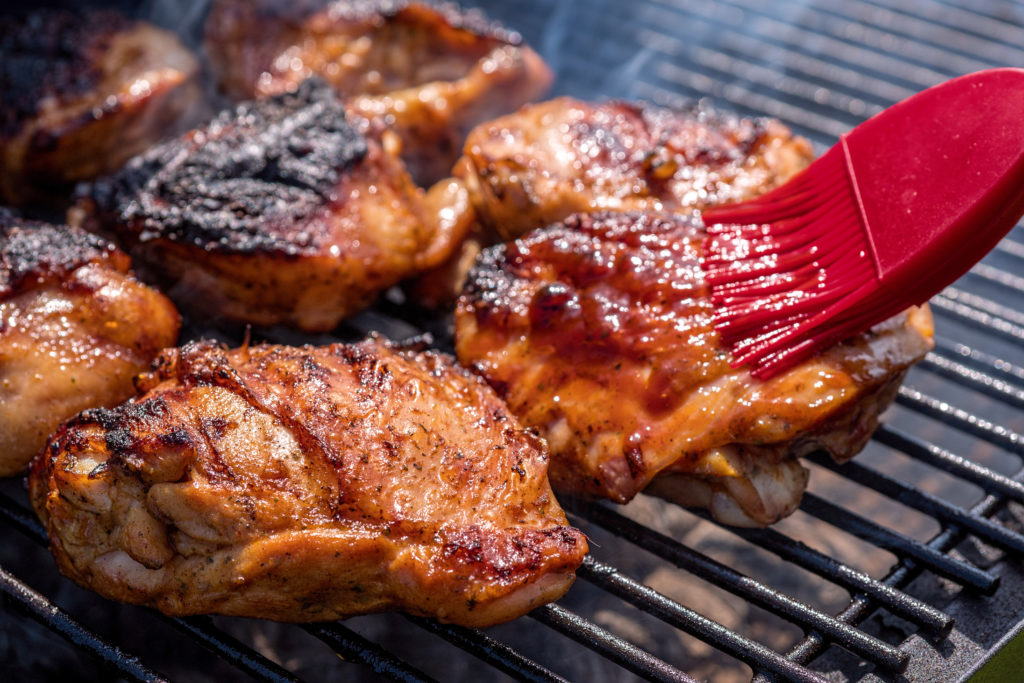 Seasonal Grilling | Seasonal Ingredients
Grilled Cherry bourbon Chicken Recipe
4 Chicken Thighs
Salt and Pepper to taste
Bourbon Cherry BBQ Sauce
1 cup Onions diced
2-3 tbsp Olive Oil
3-4 cloves Garlic
1 cup Ketchup
½ cup Honey
½ cup Brown Sugar
¼ cup Bourbon
3 cup Michigan Cherries sweet, pitted
Prepare the Cherry Bourbon Sauce
Heat oil in pan and sauté onions and garlic until the onions become translucent. This should take three or four minutes.

Add honey, brown sugar and ketchup and bring it to a boil

Add bourbon slowly (the alcohol will burn off, leaving behind the sweet and complex flavor)

Add cherries, reduce heat to medium and cook for 15 minutes
Blend the Sauce
Remove from the heat and allow to fully cool. Sauce will thicken as it cools.

Add the sauce in a blender and mix well. Don't mix when the sauce is hot. Definitely let it cool.

Add the sauce to jars and store in refrigerator for one week. Alternatively, this sauce freezes extremely well in a freezer safe Ziploc bag.
Grill the Cherry Chicken
Heat grill to 375 degrees on direct heat
Mix salt, pepper and a little olive oil on chicken and place on the grill. Grill for 5-7 minutes each side.
On the second side, start to brush the sauce a little at a time. Allow the sauce to heat a little bit while it is on the grill so it sticks to the chicken and doesn't run off. This allows you to add more and more to get that thick coating.
Check internal temperature and remove when it reaches 165 degrees
Add extra sauce after it comes off the grill as desired