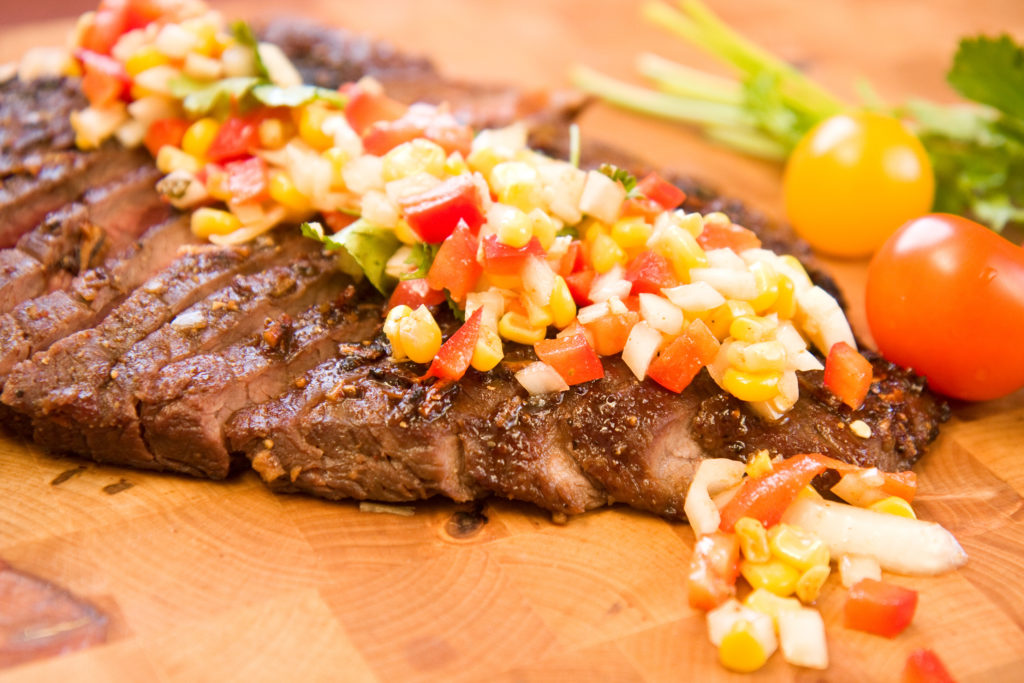 Seasonal Grilling | Seasonal Ingredients
Grilled Skirt Steak with Corn-Tomato Relish
1 pound skirt steak or sirloin steak
¾ teaspoon kosher salt, divided
¾ teaspoon ground pepper, divided
1 ear corn, husked
3 tablespoons extra-virgin olive oil, divided
½ cup halved cherry tomatoes
¼ cup thinly sliced red onion
2 tablespoons torn fresh basil
1 ½ tablespoons rice vinegar
1 serrano chile, seeded and minced
Preheat grill to medium-high.
Sprinkle steak with 1/2 teaspoon each salt and pepper. Brush the steak and corn with 1 tablespoon oil.
Oil the grill rack (see Tip). Grill the corn, turning occasionally, until lightly charred and tender, 8 to 10 minutes. Grill the steak, turning occasionally, to desired doneness, 6 to 8 minutes for medium-rare. Transfer the steak to a clean cutting board and let rest for 10 minutes.
Cut the kernels from the cob. Combine in a medium bowl with tomatoes, onion, basil, vinegar, chile, the remaining 2 tablespoons oil and 1/4 teaspoon each salt and pepper.
Slice the steak thinly against the grain. Serve with the relish.