Taking Your Living Space to the Great Outdoors
Outdoor Dining Continues to Grow
The hot trend right now is outdoor living; especially now that we are deep into Michigan's winter season.
Last year with COVID hitting our state so abruptly, homeowners turned their backyards into open-air living rooms as they hunkered down at home and took advantage of the lower risks of outdoor coronavirus transmission and that trend continues with 30-degree weather.
Some of the major retailers including Lowe's, Target and even local hardware stores are selling out of patio heaters and fire pits as well as patio furniture and outdoor lighting. Many retailers simply cannot keep up with the demand.
This comes as no surprise while the U.S. Centers for Disease Control and Prevention (CDC) advised that indoor spaces are generally more risky than outdoor ones because air can't circulate as freely, and it can be harder to keep people apart.
There are two types of outdoor heaters radiant heater which warms up people and objects and convection heaters which have a fan that heats up the air.
Restaurant businesses are offering outdoor dining experiences using vented tents heated with propane heaters. Lowe's Home Improvement store manager, Janeen DeVillava says, "the amount of heat a particular outdoor heater can put out is determined by its "British Thermal Unit" (BTU) rating. A good rule of thumb, according to one manufacturer, is to divide the BTUs by 40 (or 30 for more chill environments) to figure out how many square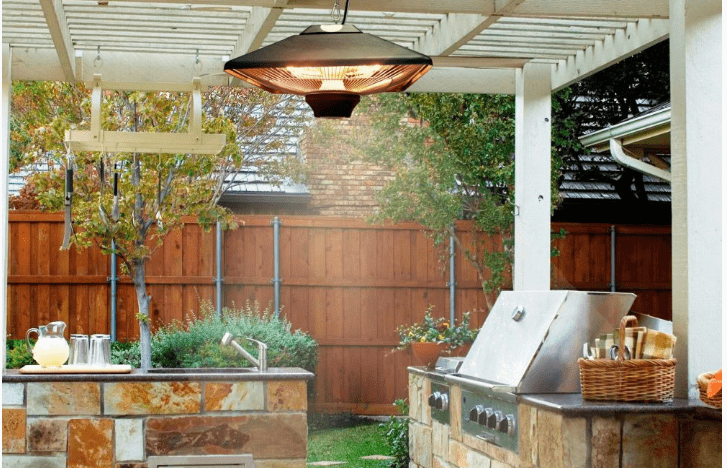 feet a device can effectively warm up." The cost of a 20-gallon tank is $40 and holds about 4.5 gallons of propane and can last anywhere from 10-20 hours depending on how often you're burning. For most restaurants, using a 20-lb or 30-lb tank is pretty average.
With restaurants switching to outdoor dining, the demand for seamlessly moving the dining experience outdoors is made easy.
HopCat in Kzoo has a heated patio, as well as a few fire pits to enjoy.

Louie's in Kalamazoo has an outdoor patio with side walls and heaters.

Left Foot Charley's in Traverse City

has installed a tent over their whole patio, and added heaters, and several fire pits.
To beat losing revenue from COVID restrictions, Peanut Barrel owners Joe and Jennifer Bell have also purchased an array of heaters. "We run a row of propane-fueled heaters down to the center of the patio so they will keep our customers warm," Joe Bell said. "The response has been really good, maybe not so much when there's snow, but we've had a lot of business on the weekends. People like it."
Whether it be igloos, outdoor fireplaces, dining pods, wooden shanties, or open-air heated pergolas; the dining experience has changed the essential need for propane heating, regardless.