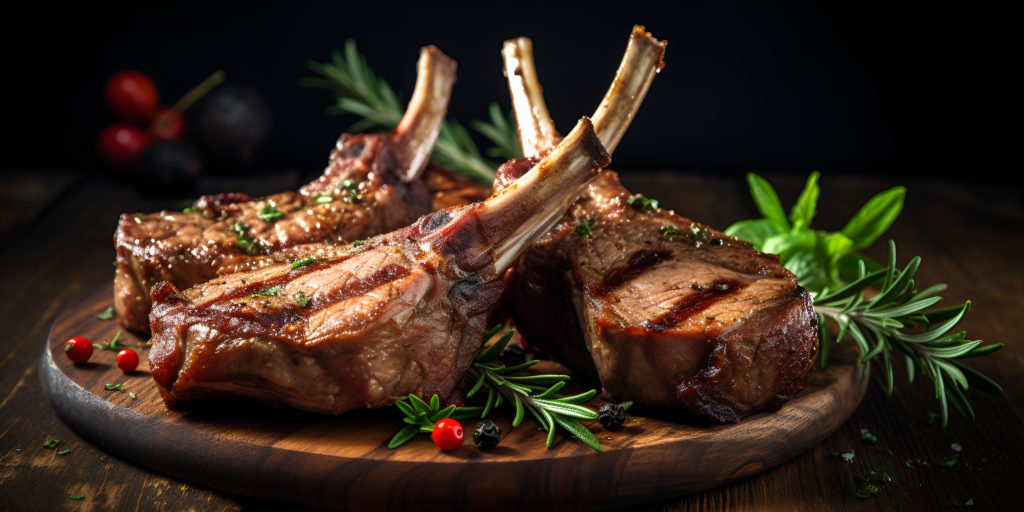 Seasonal Grilling | Seasonal Ingredients
Pomegranate-Maple Glazed Lamb Chops
2 tablespoons extra-virgin olive oil
2 tablespoons pomegranate molasses
2 tablespoons maple syrup
1 garlic clove
¾ teaspoon dry mustard
Twelve 3-ounce lamb chops
Kosher salt and freshly ground black pepper
¼ cup chopped fresh mint
3 tablespoons extra-virgin olive oil
Juice of 1 lemon
Kosher salt and freshly ground black pepper
One 4-ounce bag baby spinach
⅓ cup roughly torn mint leaves
½ red onion, thinly sliced
½ cup pomegranate seeds
1 cup sliced almonds, toasted
MAKE THE LAMB CHOPS: Heat your grill over high heat.
In a small bowl, whisk together the olive oil, pomegranate molasses and maple syrup. Grate the garlic into the mixture and add the dry mustard; whisk to combine.
Season the lamb chops with salt and pepper. Generously brush both sides of each lamb chop with the glaze and reserve any extra glaze. Working in batches, grill the lamb chops until well charred, flipping once and brushing with the reserved glaze, about 4 minutes per side. Tent with foil and let rest while you make the salad.
MAKE THE SALAD: In a large bowl, whisk together the olive oil and lemon juice; season with salt and pepper to taste. Toss in the spinach, mint leaves, red onion, pomegranate seeds and almonds.
Garnish the lamb chops with the chopped mint and serve with the salad.