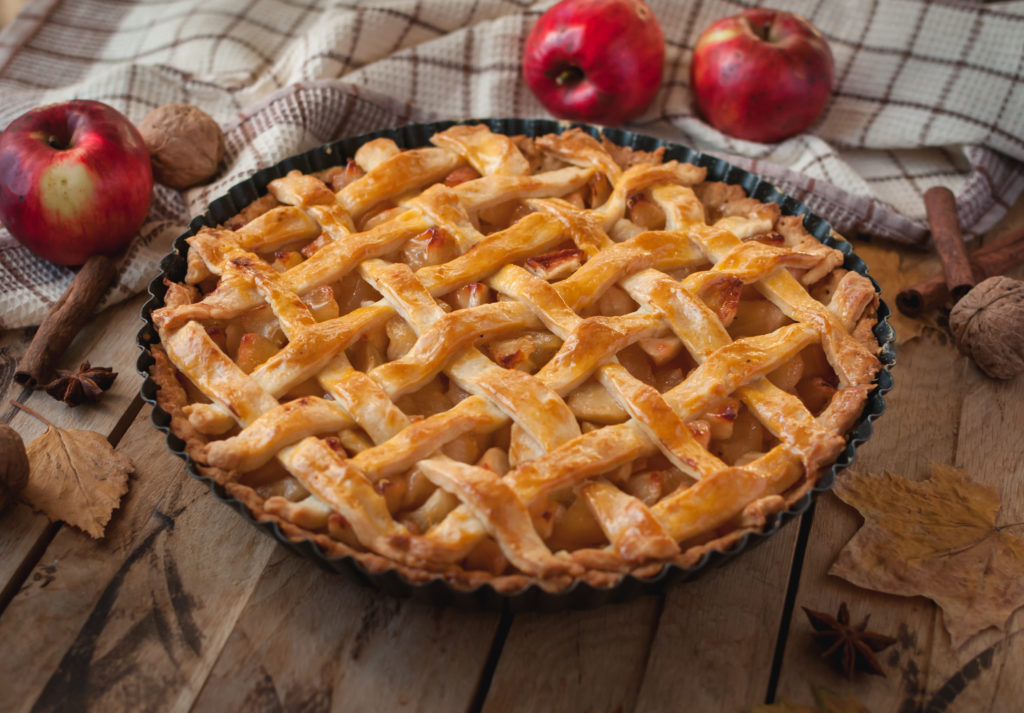 Seasonal Grilling | Seasonal Ingredients
Pie Crust
2.5

 

cups

 

flour

1

 

tsp

 

kosher salt

1

 

cup

 

butter

 

unsalted, cold, cut into ½ inch cubes

4-6

 

tbsp

 

cold water
Apple Pie Filling
½

 

cup

 

brown sugar

¼

 

cup

 

flour

½

 

tsp

 

ground cinnamon

pinch

 

ground nutmeg

2-3

 

medium sized granny smith apples

 

peeled cored and thinly slcied

2-3

 

medium sized honey crisp apples

 

peeled cored and thinly sliced

1

 

tbsp

 

lemon juice

egg wash
Pie Crust
Add a portion of the flour (1 ½ cup), plus the salt and butter to a food processor, or large bowl. 

Combine the flour and butter until a paste forms, and then add the rest of the flour. Continue combining the mixture until it has the consistency of breadcrumbs.

Add 4 tablespoons of water to the mixture, and fold it into the mixture using a small spatula. If the dough is still falling apart add an additional 2 tablespoons of butter

Form a ball with the dough, and slice in half. Wrap each half in plastic wrap and place in your refrigerator for at least one hour.

After the dough has chilled, remove it from the refrigerator and roll each dough ball out into a 12-inch circle. 

Roll one of the pie crusts back onto your rolling pin, and then gently place the crust into a 9″ pie pan. Gently press the crust into the bottom of the pan.

Cook the empty pie crust in your smoker on high for about 20 minutes or until the crust is golden brown.
Apple Pie Filling
While the pie crust is cooking on your smoker combine all of the pie filling ingredients in a large bowl. Apples first, followed by lemon juice, and then the sugar, flour, cinnamon, and nutmeg

After you remove the pie crust from the smoker, put the pie filling on the crust, piling the filling up about an inch high in the center (it will cook down)

Place the second pie crust over top of the pie filling, and crimp the edges. Cut away any excess crust and put 4 to 5 small slits in the top crust with a butter knife. Brush the crust with egg wash.

Place the pie in your propane smoker at 375 degrees uncovered for 30 minutes. After 30 minutes lightly tent the pie with foil, and continue cooking for an additional 30 minutes.

The pie is done when the top is golden brown and the filling is bubbly.

Remove the pie from the propane smoker and let it rest for at least 20 minutes before serving with your favorite vanilla ice cream